Everyone requires a motivation in there life. Some requires more then other but we all need that. Right? Message to all teachers Retirement."We believe in you stay strong everything will get better Teachers are making future of our youth and they have to work hard for ut. A teachers responsibility is more then just teaching a respective subject. They try their best to get the most out of students and what are there goals they want to achieve in there life.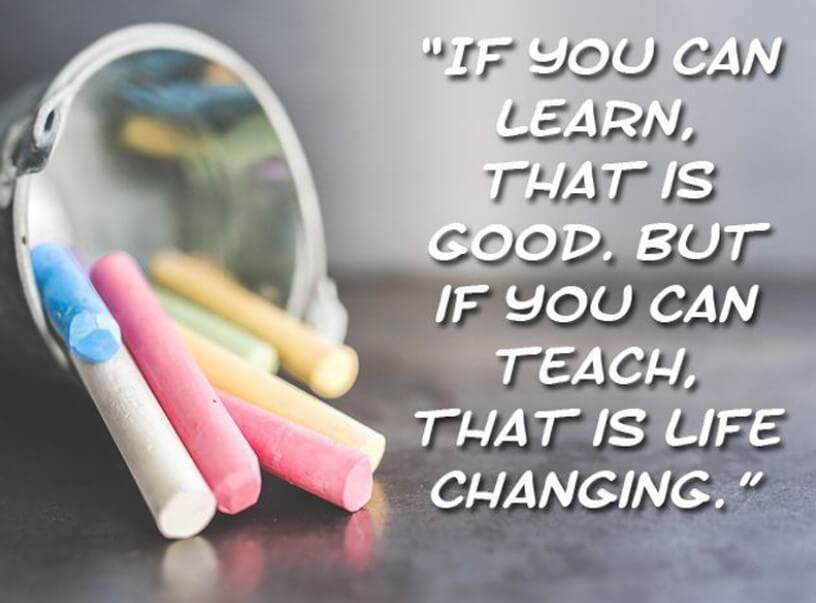 Retirement Quotes For Principal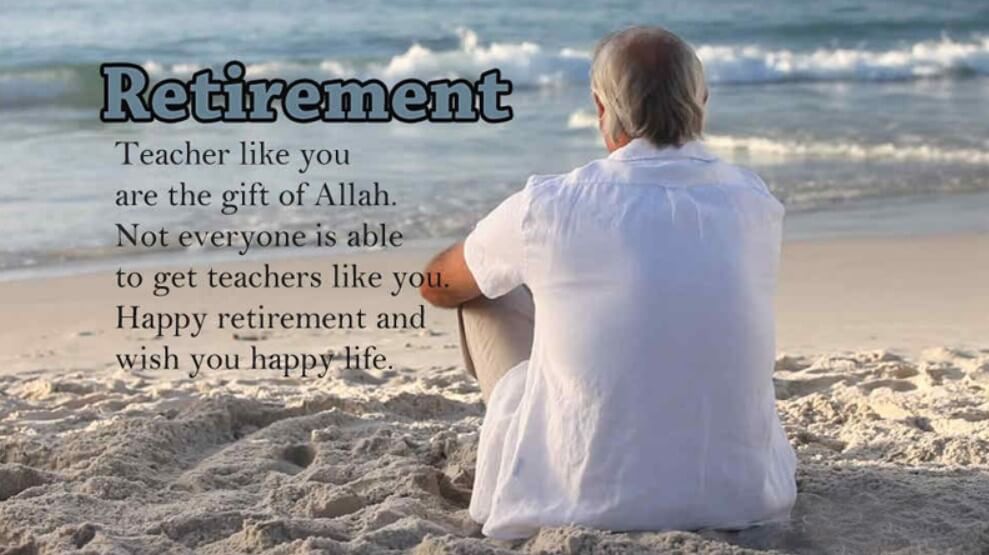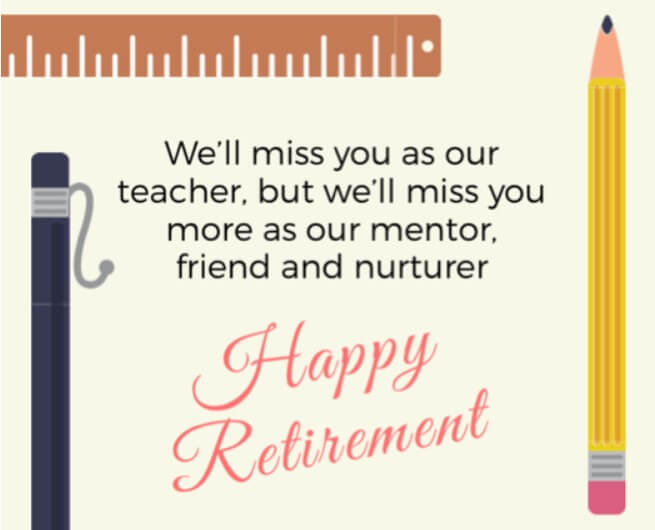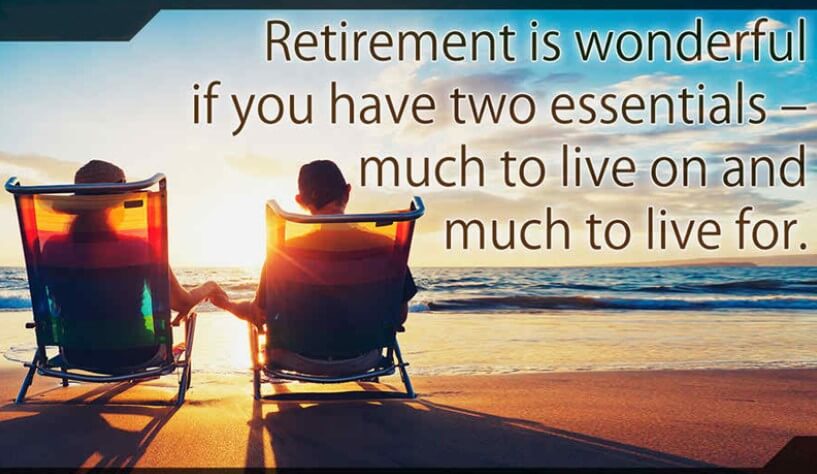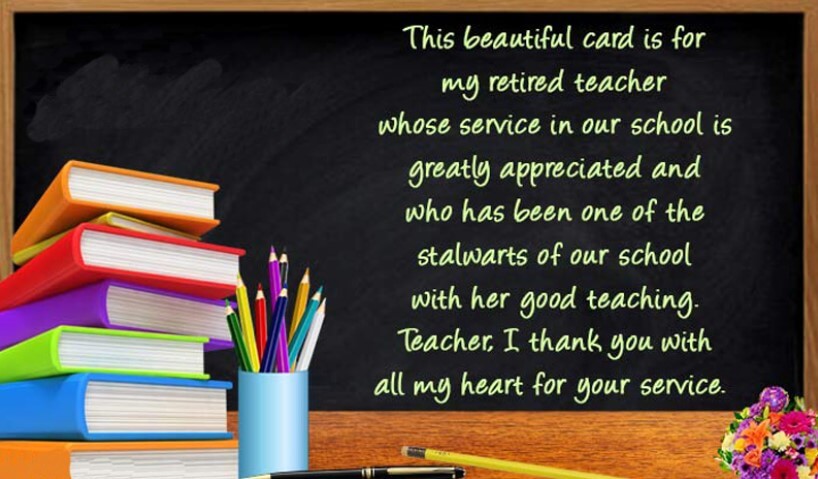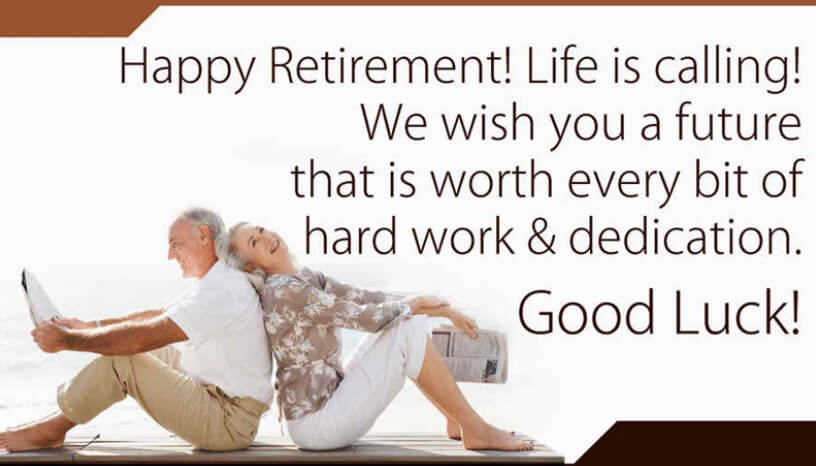 As you retire, take a moment to stroll through your beloved hallways in the school… you'll hear every nook and corner sadly whisper 'we'll miss you'.

At the time of the farewell party, I want to say just one thing, That was one and only thanks, All of you.

The one teacher in my life which influence me more than anyone. Which inspire me more than any one is you. I will miss you sir please stop sir please.

Retirement mean! Just not leaving a Job, It`s mean leaving a friend, Like a family. I wish you Happy retirement.
Good teaching is one-fourth preparation and three-fourths pure theatre.     

Gail Godwin
"

I am indebted to my father for living, but to my teacher for living well.

"

The test of a good teacher is not how many questions he can ask his pupils that they will answer readily, but how many questions he inspires them to ask him which he finds it hard to answer.

"

Old teachers never die; they just grade away
"

Teachers teach more by what they are than by what they say.
Funny Retirement Teacher Quotes

If you thought that dealing with crazy students was the hardest thing you had to do in your life, wait till you have to deal with grandkids after retirement! Good luck.

Welcome to a new phase of your life when you will no longer associate numbers with grades, bells with classes and a marker pens with a whiteboards. Have fun!

Today is your Retirement Day and Independence Day because you will finally get freedom from quarreling kids, annoying students, dominating supervisors and a nagging principal. Happy retirement.

Your retirement is a celebration of the patience and tolerance you showed in putting up with annoying students all your life. Congratulations.

I wish I could become the President of this university, if only for a day… I would cancel your retirement, and for a longer tenure pave the way.

Dear teacher, retirement is when life finally comes around and asks you to go on a permanent vacation. Happy retirement.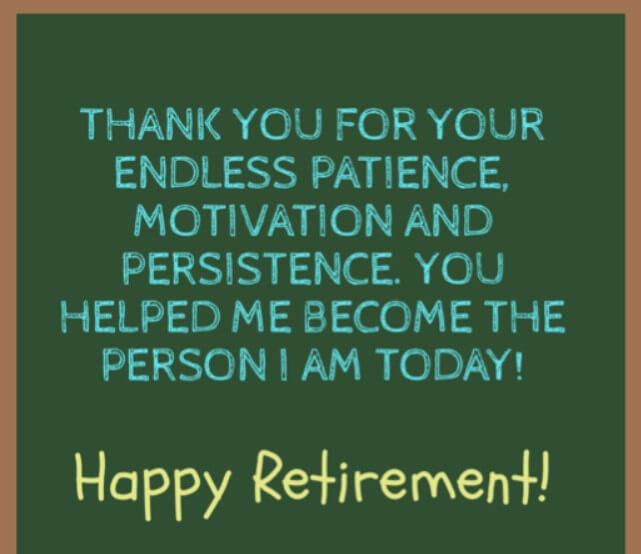 Enjoy these Inspirational quotes for teachers Retirement to get you through your day. We have collected and carefully picked some quotes that may work for you. We tried our best take a look. Teachers are like a motivational speaker for a student. Students listen to them and try to take actions and work on their advice. Cause we all know they know better then us in most of the cases. We know teaching is a hard job. Everyone has eyes on them cause the expect a result from them. Don't you think they need some inspiration? Some motivational Quotes that will help them get through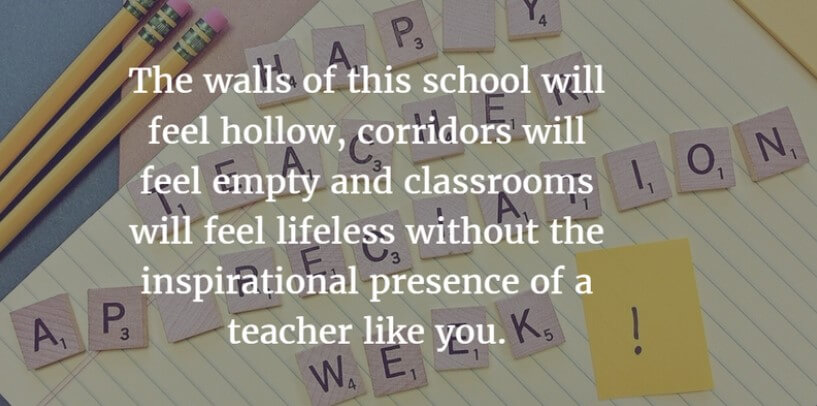 The teacher is the one who raises two ideas where previously there was only one.
A teacher carries with him his punishment, sometimes scorn or ridicule.
In teaching, men learn.
Teachers open the doors to a better world.
If you want to know everything deeply, teach others
A good retirement is better than bad resistance.
A teacher is the one who talks in someone else's sleep.
Being a teacher is not a career choice, it's a lifestyle choice.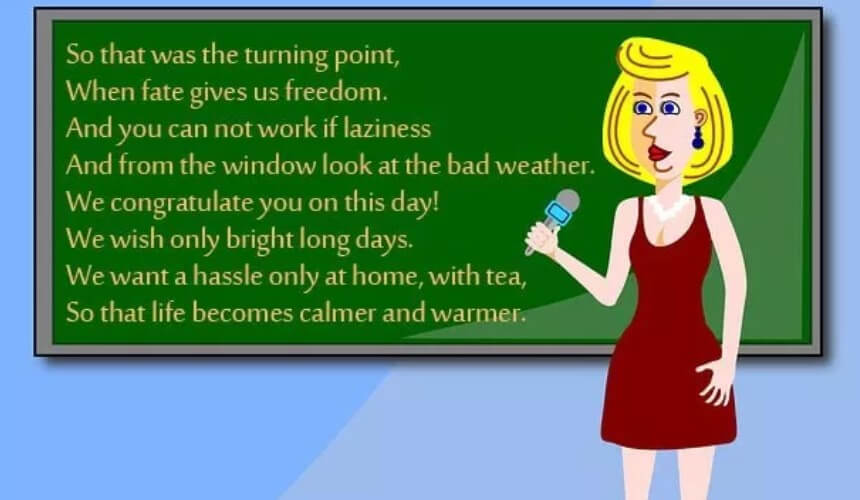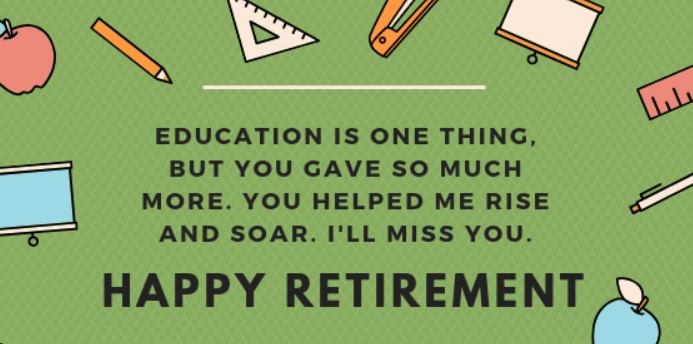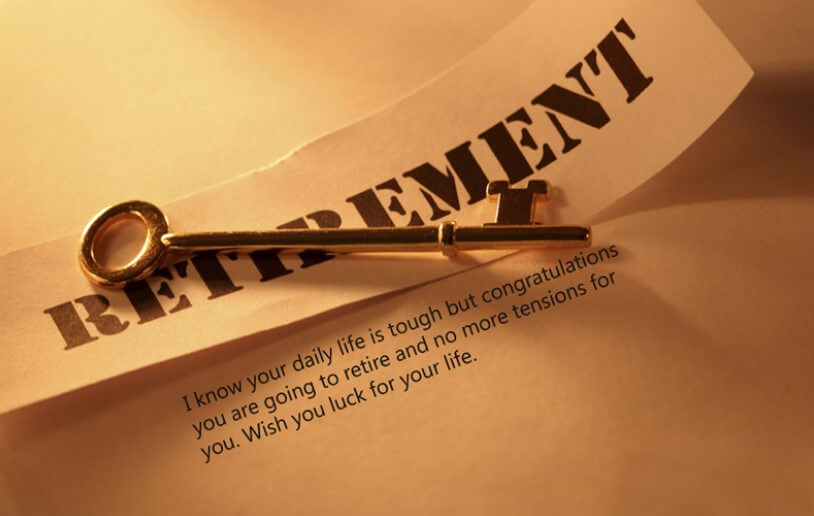 hard times. We all know its a hard job and everyone can't do that. So we need some motivation for this right? I think yes Here we have Collected some quotes in pictures as well as in Written form so you can them. They can be sent to you friends family or your teachers cause they may need that. Who knows right? So pick a best one that suits you and send it to them. This may keep them motivated. You never know what may motivate a person so you should consider sending this.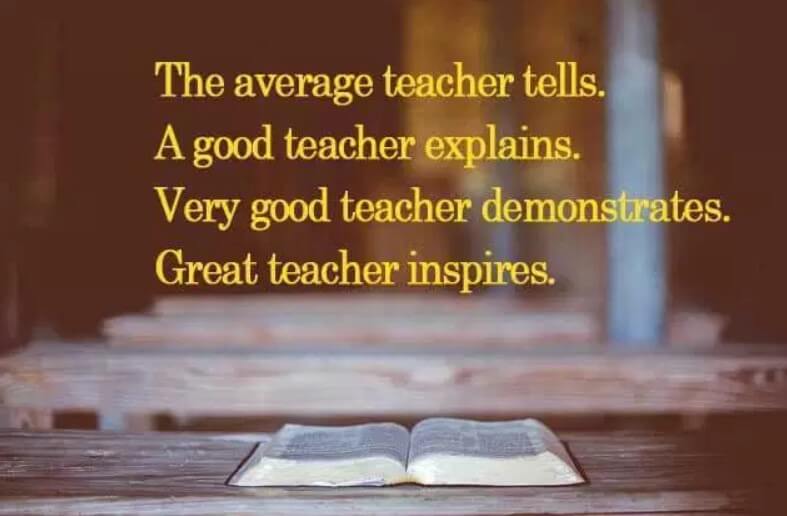 Thank You Retirement Quotes for Retiring Teachers
To thank those teachers who have been invaluable in your life, here are some quotes for retiring teachers that will summarize in a few words how you feel Let us be grateful to the people who give us happiness.
Allow my smile to offer you my tenderness, allow my hand to bring you sweet, allow my eyes to tell you your importance and accept my gratitude to the gift of your presence.
The value of a teacher lies in his ability to give and not in his ability to receive.
The happiest man is the one who makes the happiness of a greater number of others.
Acknowledgments are the highest form of thought and gratitude is a joy filled with wonder.
A delicate soul is embarrassed to know that one owes him thanks, a gross soul, to know that it owes it.
A word of thanks can often accomplish what was otherwise impossible.
Thank you is more than good manners; it's good spirituality.
Without saying "thank you", do not be ungrateful.



Retirement Farewell Quotes for Teachers
Teaching is an exercise of immortality.
The most opposite mood to retirement is ambition. Glory and rest are things that can not sleep together.
The good teacher makes the poor student become good and the good student becomes superior.
The principle of education is to lead by example.
Only by education can man become a man. Man is nothing more than what education makes of him.
Retirement Quotes for Teachers from Students
A good teacher is like a candle. He dissolves himself in order to give light to others.
The value of a professor is measured by the personality of his students.
For the teacher, it's not about loving or disliking, it's all about making no mistake.
The teacher should not be a sterile tube through which knowledge passes from generation to generation.
We consider, rightly, the teacher as an example because he is obviously in the limelight. He is at the same time an artist, an actor, a manager and a public figure.
Knowledge is too important to be left to teachers
I am indebted to my father for life, but to my teacher to live well.
Teaching is the profession that teaches all other professions
Teachers are irreplaceable: they teach you how to learn.
Teachers who know how to inspire know that learning is like caring for a garden. And those who do not know what to do with thorns, should never engage in flowers.
A stream of thoughts are stories, stories about different events, stories about people and a story about achievements.
Someone once said,  There are two main reasons to be a teacher — July and August.  In fact, there are three good reasons to be a teacher. The third reason is retirement.
A teacher is a compass that activates magnets of curiosity, knowledge and wisdom among students.
Teacher Goodbye Poems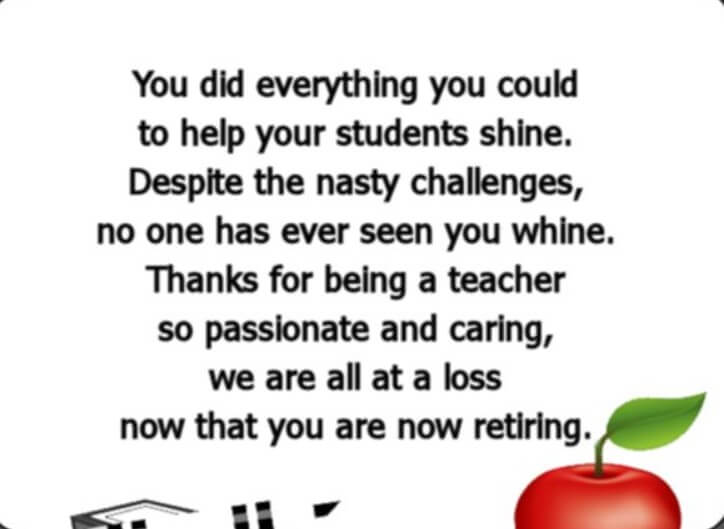 These quotes are from some of the teachers who were very famous. One of my favourite quotes of a teacher his name is Robert Frost. He says in one of his sayings " I am not a teacher but an awakener". I think its nice and its a catchy one. One should believe in himself like this. He/She can achieve the impossible.